This IS my lucky day!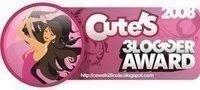 Thank you to Preppy 101, author extraordinaire,
of
All Things Southern & Preppy
for the tag on this unique award.
I love Preppy 101's blog and along with hundreds of her 'BF's', we certainly know a good thing when we read it!
She is delightful, positive, informative and her comments are always a reflection of her graciousness.
Thank you, dear fellow "Fab & Fifty & Nifty"
for thinking of me and tagging me with a fun award and activity.
I am to list 10 not-so-cute things about me.
Hmmm…. let's see now….
1.
Arachnophobia – eek!
2.
I am a life long ice chewer although I prefer the term 'connoisseur'.
3.
My night shirt – a souvenir of Mono Cone on the eastern side of the Sierra Nevadas. It has a picture of the biggest soft serve ice cream cone, burger, fries and seagulls on the back. Not a 'cute' sight when the burger and fries are wiggling as I'm walking away. Of that I am certain!
4.
I tend to drive a little too fast or so I've been told. Someone once gave me a plaque that said, "Do not drive faster than your Guardian Angel can fly". Subtle.
5.
Since I take my jewelry off as soon as I come in the house and don't go upstairs right away and put it away, I have pieces scattered all over the house but in my usual places.
6.
My 'tude ain't cute the night before the cleaning ladies are to come the next day and I'm the 11th hour housekeeper.
7.
What I want to say to people who push their way in front of me in line after I have been waiting patiently.
8.
The 'ugly cry' that I cannot control when I see an animal shelter commercial and those big, teary eyes are begging me to rescue them on late night TV. Thank goodness I am usually the last one up watching!
9.
I still have my Christmas mugs box sitting out because there are a couple that keep getting used. It's on my mental list of "I've got to take care of that" whenever I see one floating around.
10.
I have more totes than anyone should ever have, but isn't that cute, really? It depends if you ask me or my husband. 🙂