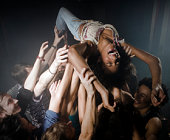 I went to a revival meeting this weekend that would make Elmer Gantry rise to his feet in exaltation. It was the 2009 Spring Cosmetic Trend Show at Nordstrom, Mission Viejo. Women 10 rows deep on 3 sides of the catwalk were hootin' and hollerin' over eye shadows, cellulite potions, bronzing oils and magic mascara wands that vibrate. The joke was you can even use it for the mascara. (ba dum bum). The congregation roared with laughter!
As they were gingerly tossing samples to the faithful amid the amplified bass that vibrated my moisturized decollete' and rhythmic enough to charm even the most venomous of snakes, you could not see the stage through the waves of hands raised towards heaven grasping at the air. I found myself exclaiming, "Come to momma" at the incoming projectile. The woman sitting directly in front of me landed what should have been mine. I tapped her on her shoulder and said, "Let's take it outside to the parking structure, sister"! Luckily, she was amused. Everyone was feeling the jubilation having sipped coffee from grand silver carafes complimented with baskets of orange-cranberry muffins an hour earlier. Fellowship was present among pilgrims looking for hope and guidance in half ounce bottles priced far beyond drug store brands. But it didn't seem to matter. We were filled with the spirit of Coco and Estee.
The inspirational sermon ended and we were encouraged to go forth and do good deeds. As I escalated down to the first floor, I didn't even pause to pray for fiscal strength. I stepped off and hit the ground running….
"Now where the hell do they have that mascara?"
Personal Show Picks:
Laura Mercier Lip Stain
– so many pretty colors.
Chole Fragrance
– a morning spritz lasted until bed time without it being too much. Ooo la la!
Lancome 'Cils Booster XL' Mascara Base
– this does not shake, rattle and roll but looks promising.
Lancome 'La Laque Fever" Ultimate Lasting Full Color Lipshine
– reported to last for 6 hours.
Do Not call your doctor should it last longer than 4.
Clarins High Definition Body Lift
– if this works I am filling a swimming pool with it.
Eye opener song: "Manic Monday" – The Bangles