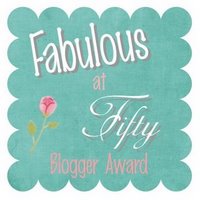 If you can read the bottom line of this award without your 'cheaters' then it could mean you are
not
at this majestic demographic yet! Yes, you are fabulous, but "fab AND fifty"?
Maybe in a few more years, dearies. 😉
Thank you to SJN who has bestowed this honor upon me and let me tell you about her…not only does she have one fab blog, but TWO! See what can be accomplished at 'our age' ladies? We are just hitting our stride so watch out! Talk about multi-tasking! SJN blogs are all about wedding planning Bridal Buzz – wedeventdesign and golfing Tales of a Golf Gal.
This award is a lovely reminder that life is sweet as ever on the back 9 and we can still make it under par with the putters of our choice!
SJN, consider me part of your
"Fearless -Fabulous- Fifty-Foursome" anytime!