Tres Tray Chic
tagged me for a bag expose'.
Thank you!
At first I thought, "How exciting! My first tag!"
Then I kind of panicked.
I emailed my friend and said to her,
"What if it's like taking a peek inside a lingerie drawer expecting to find all Victoria's Secrets and instead you find the white granny panties with the elastic thread hanging and holes from where you use your thumbs to pull them up."
Do not ask how I know this.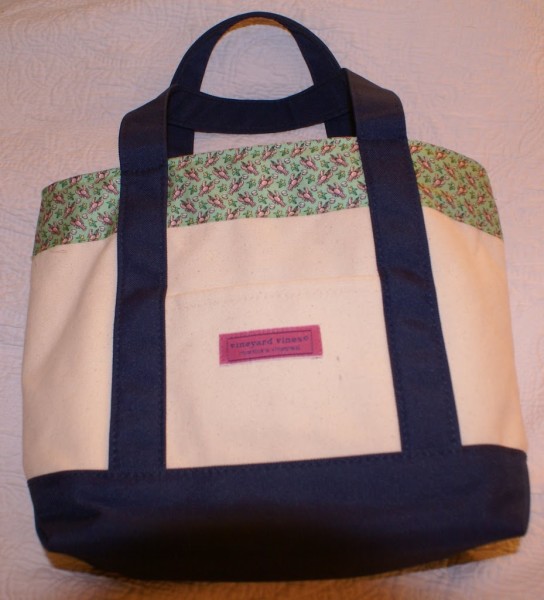 Vineyard Vines mini tote in the Clam Bake pattern. $75
Not to make this complicated but I am a kind of nomadic bag user. I usually have two in my car. If one doesn't go with what I'm wearing, the other one will and I end up just transferring my wallet. My cell phone usually doesn't make the cut. I never have it with me which continuously frustrates anyone trying to get a hold of me.
I lucked out today.
I had just been to a basketball game the night before and hadn't transferred anything out of it yet. Wherever my wallet goes, so go I.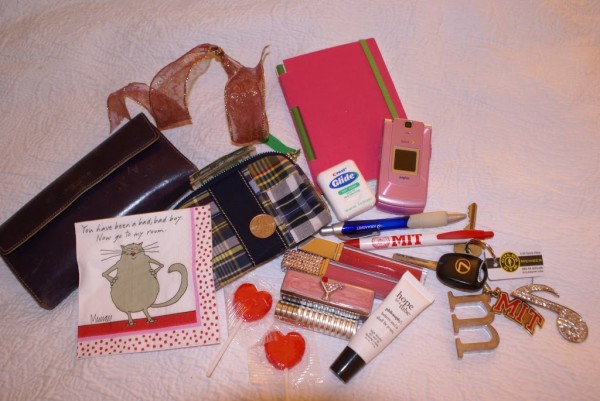 Kate Spade wallet (purple) Have you seen the pink with lime green lining??
Napkin from my Valentine's Day party….
("You have been a bad, bad boy… now go to MY room.")
Madras coin purse from J. Crew (found some spare cash – always welcome)
Quarter in bottom of tote
2 heart lollipops
2 Clinique "Raspberry Glace"" lipsticks (one in the case)
Pink marinti lipstick case
2 Lip Fushion glosses – "Beach Baby" & "Summer"
philosophy "Hope in a Tube" eye & lip cream
Piece of ribbon from a chocolate chip cookie a friend gave me at the game (delish, J!)
Pink and green pad of paper and pencil – Pier 1
Dental Floss
MIT pen & one from a trade show
"m" key ring with MIT embellishment, crystal music note, Gold's gym tag (impressive right? have not been there yet.), car key, office key
Phone (there it is!… but dead as a door nail)
Camera – in use
(that's right home girl, this is a hand bag throw down!)