The invitation was sent via a quick smile.
The RSVP? A witty double entendre.
You're shaken. He's stirred.
Cheers!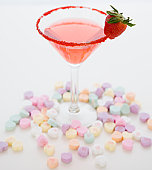 The Flirtini
1 oz. vodka
1 oz. champagne
1/2 oz. pineapple juice
1/2 oz. cranberry juice
maraschino cherry and an umbrella for garnish
Combine vodka, pineapple juice, orange liqueur, cranberry juice and ice in a shaker.
Shake and strain into a fabulous stemmed glass.
Top with 1 oz. of champagne, cherry and of course, an umbrella.