I find myself sitting in the same corner of the sofa in the living room that I was parked on five years ago.  Then, I was watching my youngest son bring down all his essentials to take with him to college.  After his plan of living back home with us for a year after his graduation, he is preparing to leave again tonight, but this time it's different.  There's no college buffer, no academic calendars affording extra days and weeks during the holidays to be together for more than a scheduled visit.  This last week, after he signed his lease the reality of the finality of being a true empty nester began to sink in.  I have to say, it hasn't been easy and it's put me into a funk I wasn't expecting.  Partly because I didn't allow myself to think about it in depth before this and possibly because my only involvement was donating a few rolls of paper towels and rolls of the house TP.  I was given a good chuckle though when my son opened the trash bag as I tossed in the paper products and he melodically voiced, "Trick or Treat".  What I remember as excitement when he was little over "Ooh, king sized" candy was now, "Ooh, double-ply."
The whole circle-of-life-thing has also reached beyond our immediate family core to our older siblings.  Each side has been blessed with new additions to the family in three weeks time to which, puts me (us) more on the fringe.  Three weeks ago we welcomed a great-niece, Anna, on one side of the family and last Friday, we welcomed Alyssa, on the other side.  Family dynamics will inevitably be reshuffled as they tend to do when a new generation is added.  It's another change, two generations removed from your own, that makes you feel older.  You're more an observer this time around and from a further distance.
I took this photo of my MIL, Jean, holding her first great-grandchild when Alyssa was only a few hours old. Jean will be 92 this fall and is out tonight drinking margaritas with her girlfriends.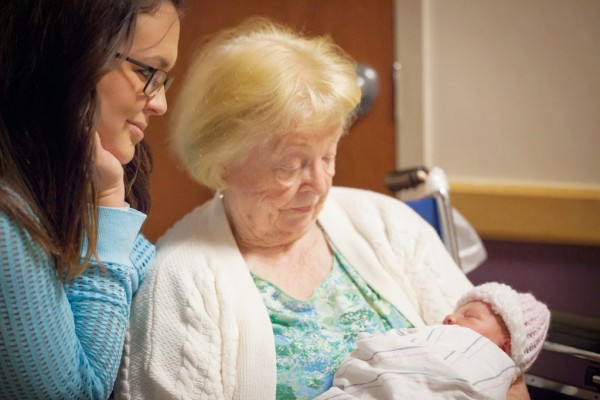 I hope Alyssa is lucky enough to inherit whatever traits keep this incredible woman going gangbusters!  Pictured with Jean is her grand-daughter and our niece, Marianne.  She's an auntie for the first time and is awestruck at her new status.  I remember visiting Marianne in the hospital when she was born and her mom, my SIL-to-be.
Time seemed to rush by this past week with so many changes.
I'd love to know how you handle changes of this kind.  Would you share your thoughts with us?  It would be especially helpful to me.